Coordi-noonas who will be styling SM artists for SMTown Live in NYC, I don't want to be disappointed this weekend, as I will show no mercy when I review their outfits, please take note of the following:
Kangta
He just needs a very nice crisp suit and sunglasses and all the ladies will swoon. Think Frank Sinatra swagger when you dress him, but make sure his hair is not too styled. He needs to look slightly rough around the edges to be great.
BoA
The edgy BoA must make an appearance at the first SMTown concert in NYC. I love the braids, the piercings... It's very New York. BoA is hot and fierce. Please make sure her wardrobe shows these great qualities at the concert.
TVXQ!
U-Know Yunho will be expected to show a lot of skin. Please don't do something ridiculous like putting him in a turtle neck or a suit that covers his arms. Just don't do it. Yunho obviously doesn't like clothes as much as it seems. Kindly let him do without his shirt, if he so prefers. Think Mirotic, not Before You Go...
Max Changmin should not wear too much eye makeup. He already very handsome as it is, don't ruin it by making him look pretty. Also, please make sure his hair doesn't cover up his face. It's really a shame when fans can't see his great features because there's too much hair covering his face.
Think this (including the earring):
Not this - way too adorable for NYC:
Sigh, I wish the rest of DBSK could be included in my fashion line up - I would've recommended the tightest possible pair of pants for Xiah Junsu... I wonder when JYJ will come to NYC...
Super Junior
While I love the dapper A-CHa MV fashion....
I believe these guys need to go back to the all-white Super Show 3 outfits. Those all-white outfits (jackets on tank tops?) including white skinny jeans were truly a sight to behold. Now I know it's after Labor Day and all, but that fashion rule was made to be broken...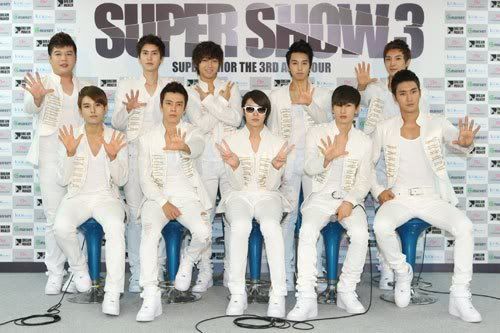 Girls' Generation
I love their new edgy/sexy concept from The Boys' teasers. Their badass outfits and makeup definitely suits New York. My favorite concept for SNSD is from their Vogue magazine shoots this year! Please make sure they don't come as "Gee" cute - and I love Gee - but that's not going to fly in NYC. They need to be hot!
SHINee
I love these guys, so I really need them to look good on Sunday. Think Lucifer or Hello, not the Japanese Noona Noemu Yeppo!
For the most part, I hate heavy "guyliner" on K-Pop idols, but these guys can pull off eyeliner and still look very hot.
Please let Onew's hair grow back to Hello-era length! He needs his hair to be a little long, and he needs a side part. Having the hair covering his face is not his best look. Seriously. He is so good-looking, please stop letting his hair get in the way of his hotness!
It goes without saying that Jonghyun should show his arms and his back. Why? Some fangirls have paid for tickets solely for this fanservice. Let's not disappoint them.
Key should just be allowed to be Key. His taste in fashion is amazing. He always takes risks, and I'm curious to see what he'll come up with this time around.
Of course, Minho should show his arms. Is that even a question? And if his Ring Ding Dong ponytail can make an appearance, that would be great!
Gosh, if only you could bring back Taeminnie's extensions from Lucifer. The hair flips he had during Lucifer's promotions were epic... At the very least, please don't let him dye his hair red. It looks great, but somehow it takes away nearly all of his cuteness! He always looks so mean with red hair. Blonde is definitely the way to go. Maybe even strawberry blonde. Our maknae should look adorable and hot, not unapproachable.
f(x)
They are adorable SM hoobaes. They are definitely allowed to look cute, but it'll be more interesting if they choose a more sophisticated image for their first NYC appearance.
Friendly suggestions to the coordi-noonas for SMTown Live in NYC. I can't wait to see what the artists actually wear... I will be in Section 118 fashion spazzing the whole night through!